28hb julai start Pesta Konvokesyen Pertama KUTKM. Tahniah untuk member-member yang akan grad esok (30 Julai). Malam tadi ada rakaman Forum Perdana Ehwal Islam. Dua tajuk sekali dirakamkan, dah ler start hampir kol 10. abihnyer hampir kol 1 pagi. wutever, memang tajuk dan panel-panel yang dibwa semalam best2. tak sempat nak rasa ngantuk pun.
Tajuk pertama : MASIHKAH KAU INGAT (gambar bawah kiri)
Panel :
1. Ustaz Dato' Haji Kamaruddin (imam besar masjid negara)
2. Dato' Dr Mohd Fadzillah Kamsah
3. Ustazah Siti Bahyah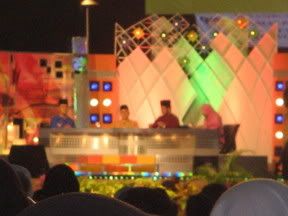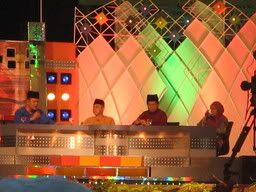 Tajuk kedua : ANTARA KERINGAT DAN AIRMATA (gambar atas kanan)
Panel :
1. -sda-
2. -sda-
3. Dr. Sharifah Norhayati.

Fisrt topic, MC yang kat bawah tersilap sebut. ada ker KUTKM disebutnya Kolej Universiti "Teknologi" Kebangsaan Malaysia. Hmmmm, Teknikal laarrr bukan Teknologi. Masa topik kedua tu, gerimis mengundang. tapi alhamdulillah kejap jerkk. By the way, ada certain2 part kat topik nih, very the very touching. Teringat kat mama & papa kat kampung. Sebagai halwa telinga malam tadi, kumpulan Now See Heart nyanyi lagu Baiti Jannati dan Damai.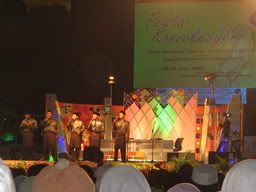 nak tengok banyak gambar lagi? Klik forum perdana.